Press Releases
6/26/04
For immediate release:
Por Vida: A Tribute to the Songs of Alejandro Escovedo salutes and benefits one of the most critically acclaimed artists in contemporary music, hailed by Rolling Stone critic David Fricke for creating "his own genre" and named Artist of the Decade for the 1990s by No Depression magazine. Widely admired for the stylistic breadth and innovation of his compositions and his facility for translating his personal experiences and observations into universal truths, he fell ill from the effects of Hepatitis C in April 2003.
The music community responded to his health crisis and its financial repercussions with a stunning outpouring of generosity and concern that culminates in Por Vida. On the two disc set, out July 27, 31 acts from across the musical spectrum – including Escovedo's friends, family, peers, influences and admirers – offer their inspired interpretations of his material, packaged with liner notes by famed critic Dave Marsh. A portion of the proceeds from this release will benefit the Alejandro Escovedo Medical & Living Expense Fund as well as to spearhead an ongoing assistance effort for musicians afflicted with Hepatitis C.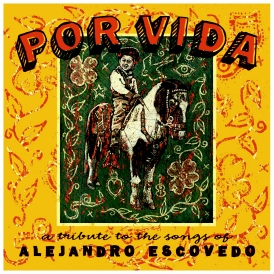 The artists on the album and the songs they do are:

Disc One:
Lucinda Williams "Pyramid of Tears"
Lenny Kaye "Sacramento & Polk"
Steve Earle & Reckless Kelly "Paradise"
Jon Langford and Sally Timms "Broken Bottle"
Calexico "Wave"
Jennifer Warnes "Pissed Off 2AM"
John Cale "She Doesn't Live Here Anymore"
Los Lonely Boys "Castanets"
Cowboy Junkies "Don't Need You"
Charlie Sexton "Dear Head On the Wall"
Jon Dee Graham "Helpless"
Howe Gelb "She Towers Above"
Ian McLagan and the Bump Band "Wedding Day"
Tres Chicas "Rhapsody"
Peter Case "The End"
Bob Neuwirth "Rosalie"
Section String Quartet "Crooked Frame"
Disc Two:
Ian Hunter "One More Time"
Jayhawks "Last to Know"
Nicholas Tremulis Orchestra "Velvet Guitar"
Sheila E. and Pete Escovedo "The Ballad of the Sun and Moon"
Chris Stamey "One True Love"
Son Volt "Sometimes"
Rosie Flores "Inside This Dance"
Charlie Musselwhite "Everybody Loves Me"
M. Ward with Vic Chesnutt & Howe Gelb "Way It Goes"
Javier Escovedo "The Rain Won't Help"
Caitlin Cary "By Eleven"
Minus 5 "I Was Drunk"
The Dragons "Gravity"
Ruben Ramos "Thirteen Years"
Alejandro Escovedo "Break This Time"
1/6/04
For immediate release:
ALEJANDRO ESCOVEDO BENEFIT IN CHARLOTTE, NC
NC Benefit for a Friend West
WHEN: Sunday, February 29th
WHERE: Double Door Inn,
TIME: Doors 4pm
Performers
Caitlin Cary
Patty Hurst shifter
Houston Brothers
Les Dirt clods
Rick Spreitzer
Black Market radio
Pop Rocket
Elevator Action
Horse Thief
Sea of Cortez
Lance Mountain
Tres Chicas
Tonya Lamb
Lynn Blakey
Edwards Brothers
Hard Times Family
David Childers
Contact: Bob Graham
12/6/03
For immediate release:
ALEJANDRO ESCOVEDO BENEFIT IN DETROIT
WHFR FM and The Trinity House Theatre
WHEN: Friday, November 21, 8pm
WHERE: Trinity House Theater, Six Mile at I-275 in Livonia
TIME: Doors 7:30
COST: $10 donation
Performers
Jill Jack
Jo Serrapere
Chris Buhalis
Jim Roll
For more info – http://www.trinityhouse.org www.whfr.fm
11/16/03
For immediate release:
ALEJANDRO ESCOVEDO BENEFIT AT IOTA
WHEN: Sunday November 23rd
WHERE:IOTA Club & Cafe, Arlington, VA, 703-522-8340
TIME: From 1 to 5 p.m.
COST: $10 suggested donation
Performers
Bill Kirchen
Jumpin' Jupiter
Last Train Home
Karl Straub & the Graverobbers
Little Pink
Brandon Butler (Canyon)
Scott McKnight & Naughty Pine
Lee Wilhoit
Andrew Grimm & June Star
10/16/03
For immediate release:
ALEJANDRO ESCOVEDO – BENEFIT FOR A FRIEND
WHEN:Sunday November 23rd
WHERE:Retail Bar, 114 W. Martin St.,Raleigh,NC
TIME: Doors @ 12:30 PM
COST: Advance Tickets $18 available at Record Echange
Performers
1 am 6 String Drag
12 SuperChunk
11 Backsliders
945 Glory Fountain
830 Patty Hurst Shifter
715 Bleeding Hearts
600 Goner
445 $2 Pistols
330 Marah
215 Tangerine Trousers
1 pm Cartridge Family

Acoustic Stage
1035 Patterson Hood
920 Thad Cockrell
805 Chatham County Line
650 Peter Holsapple and Chris Stamey
535 Chip Robinson
420 Hooverville
305 Jostle Lee
150 Peter Blackstock and Anthony Neff
Events Also Include a Silent Auction, Raffles
11/10/03
For immediate release:
ALEJANDRO ESCOVEDO – WITH THESE HANDS – A BENEFIT FOR ALEJANDRO ESCOVEDO
WHEN:Saturday December 13th
WHERE:Continental Club, 3700 Main Street, Houston TX
TIME: Doors @ 3:00 PM
COST: Tickets $10 available at the door.
Performers
Joe Ely
John Evans Band
Clouseaux
Sugar Shack
The John Sparrow
Gun Crazy
Waxsploitation DJ
Djetsu
Hayes Carll
Drop Trio
Defenstration Unit
The Dragstrip Brothers
Washington Westcott
Fab Nation
DJ Sonic Reducer
10/13/03
For immediate release:
BENEFIT FOR ALEJANDRO ESCOVEDO SATURDAY, NOVEMBER 1st
WHEN: Saturday, November 1, 8:00 pm
WHERE: Rubber Soul Records 115 W. Michigan Ave. Ypsilanti, MI (between Detroit and Ann Arbor) (734) 483-8834
COST: Donation: $5.00
Featured Performers:
Phil Lee
Jim Roll
Corndaddy
The Red Butlers
Robert Richmand
Chad Williams
Larry O'Dean
Maren Coleman
For more information, call the above phone number, or e-mail [email protected] or [email protected] .
6/25/03
For immediate release:
ALEJANDRO ESCOVEDO RECUPERATING AFTER HEALTH CRISIS; BENEFITS AND TRIBUTE ALBUM IN THE WORKS
Acclaimed singer-songwriter Alejandro Escovedo is recovering well following his collapse and hospitalization in late April due to complications from Hepatitis C. He is currently at home in Canyon Lake, Texas, resting and undergoing treatment to alleviate the effects of his condition.
Escovedo's health crisis has prompted an outpouring of help from his friends, associates, and fans across the nation. First to respond has been the Austin music community with a two night benefit at The Continental Club on June 25 & 26 featuring Kevin Russell of The Gourds, Beaver Nelson, ex-True Believer Jon Dee Graham, David Garza, Miles Zuniga of Fastball.
The Damnations, TX and other acts. Meanwhile, Escovedo's friends at Bloodshot Records are organizing two Chicago benefits at the Abbey Pub and Fitzgerald's, with further benefits to come at The Cactus Cafe in Austin and The Hideout in Chicago. Also in the planning stages are benefits in San Diego at The Casbah, Seattle at the Experience Music Project and in the Raleigh/Durham, NC area at a venue still to be determined.
Plans are also already underway for a benefit tribute album modeled on the Sweet Relief albums for Victoria Williams and Vic Chestnutt with an all-star line-up to be announced in the near future. As well, Rykodisc is preparing to re-release Escovedo's With These Hands CD in an expanded version similar to last year's re-releases of Gravity and Thirteen Years by Texas Music Group.
Alejandro wishes to thank his many supporters for their generosity and good wishes in his time of need. A trust is currently being established to handle donations with details on where to send contributions to be announced shortly.
Tobo Vape Juice
Escovedo will be taking an extended break from his rigorous touring schedule in order to fully recover and prevent any recurrence of his health problems. His next scheduled concert appearance will be at the 2004 South By Southwest Music Festival next March in Austin.
Any inquiries, questions, and offers of assistance should be directed to Alejandro Escovedo's managers Heinz Geissler at 512-322-0617 or [email protected] and/or John Porter at 212-404-0786 or [email protected]
Older press releases
Media Coverage
1/22/05
IN BRIEF
Splendid Magazine: Reviews


Various Artists
Por Vida: A Tribute to the Songs of Alejandro Escovedo Or Music
Philanthropy probably ranks among the most dubious of human impulses. When applied to music, it doesn't get any better — consider Bono and his presidential elbow-rubbing or the "We Are The World" single. This time, though, it's our duty to shell out our hard-earned dollars for a truly noble cause: to help great Tejano singer/songwriter Alejandro Escovedo, one of the living legends of Americana (named Artist of the Decade by No Depression in the nineties, no less). Tribute and benefit album in one (in the same vein as the Sweet Relief projects, first devised to aid Victoria Williams and Vic Chesnutt), Por Vida sports an impressive roster of talent, and its profits are earmarked to help Escovedo pay for the medical expenses he's run up in his battle against Hepatitis C.
This is an eclectic showcase of artists from the folk/country/blues/roots axis. The lineup includes reputed relatives (the Escovedos go way back in rock 'n' roll history, from key members in early incarnations of Santana to gorgeous percussionist extraordinaire Sheila E), fellow travelers like Jon Langford, Sally Timms, Peter Case, Chris Stamey et al, celebrity types like Peter Buck (playing bass with The Minus 5, his side project); acclaimed classics like Ian Hunter, Lenny Kaye and John Cale, and younger generations of country rockers like Cowboy Junkies, a reformed Son Volt, the Jayhawks and even Calexico.
Although it was inspired by a situation that should never have happened (how is it that musicians in a wealthy society can't afford medical insurance?), Por Vida is a celebration of the transparent, delicate poetry of an extraordinary artist. Buy it, and then visit www.alejandrofund.com to find out what else you can do to help.
— Marco Rivera
READ THE FULL ARTICLE
9/13/04
IN BRIEF
Rolling Stone Magazine

The success of the two-disc compilation Por Vida: A Tribute to the Songs of Alejandro Escovedo has led to the creation of the Alejandro Fund. Like the album, the fund will benefit the fight against Hepatitis C, which Escovedo is battling. A concert to contribute to the fund is set for November 4th in Austin, and will feature LOS LONELY BOYS, JOHN CALE, LENNY KAYE and RUBEN RAMOS. Escovedo himself will play seven dates in October and November . . .
READ THE FULL ARTICLE
10/13/03
BENEFIT FOR ALEJANDRO ESCOVEDO
by David H. Hill
No Depression
Slim's (San Francisco, CA)
September 2, 2003
Like millions of Americans, Alejandro Escovedo, dogged seven years now by hepatitis C, has no medical insurance. Yet the master of moody roots chamber music has hundreds of musicians, from legends to locals, throwing benefits to defray his expenses (check www.alejandrofund.com for one that may be happening near you). San Francisco's ran four hours, to an agreeably full house.
With seven acts shuttling one after another, there were boud to be problems (dead mikes, fluctuating volume, and one explosion of statis suavely described from the sound board as "an anomaly"). MC George Wendt (Norm from "Cheers"), and a longtime Escovedo fan back to the True Believers days) came seemingly unprepared, and uninclined to improvise. But for performers confined to a few numbers, pacing isn't an issue; they can deliver an intensity that constrasts pleasurably to a full set.
The effect of this compression was demonstrated by openers the Court And Spark, whose three members were each more rocking than the last; subsequently, they backed Jesse DeNatale on his two tunes, with similar results. Chris Smither, with a beautiful blue guitar and his customary chair, reminisced wistfully about peerforming his "Lola" at the Vermont State Pen, sang late Dave Carter's garrulous "Crocodile Man" without dropping any of its Chuck-Berry-on-a-twisty-road lyrics, and took advantage of his open D tuning to rage through Blind Willie McTell's "Statesboro Blues", establishing a humor as a motif in the evening's stage patter.
The chronologically kinetic Peter Case has no trouble blazing through regular-length sets; during his five tunes, from "Crooked Mile" to the harmonica-wailing "First Light", he just about broke the sound barrier, with only between-song tune-ups keeping him from becoming a blur. At one such interval, he fretted that he had "no momentum" – what the hell was he talking about?
This could be the Hardest-Working Man in Show Business.
Unless it's Dave Alvin, though his four-song set was tantalizingly brief. He mused his way through "Dry River", got mazimum mileage from the anthemic chorus of "Abilene", and busted a string midway through the new tune "Ash Grove", a salute to the legendary L.A. venue. Accompanied by fiddler Amy Ferris – a former member of Escovedo's touring band – and the evening's all-purpose factotum, Chris Gaffney, Alvin finished with the traditional tune "Make Me A Pallet On Your Floor", with Case and Smither taking each taking a verse.
Jonathan Richman, backed by drummer Tommy Larkin, pitched his Lou-Reed-gone-Raffi routine straight to the cult in attendance, singing in three languages and executing his patented aerobics kicks. The show now gone fully electric, Chuck Prophet & the Mission Express provided the first intentional feedback of the evening. Prophet had a ball turning Slim's into a garage, dealing out distortion and pristie harmonies evenly. Case, the evening's Zelig, dueted on "Two Angels" – a song from Case's BLUE GUITAR album that became a staple of Escovedo's reperatoire in the '90s – after he and Prophet scrambled for a mutually acceptable key.
The Iguanas didn't so much close the show as play last, victims of the inevitable entropy of a school night. Prophet joined them to kick and cuss stalled amps back to life, and stuck around for the teen-lust vignette "The Radio Was Our Song".
It's fortunate for both Escovedo and his fans that he has such friends and allies to make solidarity so positively pleasurable. If he were tight with, say, Celine Dion, who wouldn't just send a check? (Of course, Celine herself wouldn't need a benefit: she's Canadian.)
10/13/03
ESCOVEDO UPDATE
No Depression
Support continues to flood in for ALEJANDRO ESCOVEDO in his battle with complications from Hepatitis C. Upcoming benefit concerts include one featuring the reunited Backsliders in Raleigh, North Carolina, at Retail on November 23 as well as one at Houston's Continental Club December 13…Or Music is putting together a benefit album filled with covers of Escovedo songs that's tentatively slated for an April 2004 release. As a thank you to fans, Escovedo is making available downloads of several previously unreleased songs on his website (www.alejandroescovedo.com). The Alejandro Fund website (www.alejandrofund.com) also is selling a T-shirt featuring Jon Langford's rendering of Escovedo on a horse…Rykodisc is reissuing Escovedo's 1996 album WITH THESE HANDS as a double disc, including two previously unissued tunes and live material. The label is also reissuing THE PAWN SHOP YEARS by Escovedo's side-project band Buick MacKane.READ THE FULL ARTICLE
10/13/03
BILLBOARD BITS: … ESCOVEDO
by Barry A. Jeckell
Billboard
Joe Ely, Whiskeytown, Jennifer Warnes and Los Lonely Boys are among the artists confirmed to contribute to an Alejandro Escovedo tribute album. The Or Music collection will also feature the artist's brother Pete Escovedo and niece Sheila E. More artists will be announced as they are confirmed.As previously reported,Escovedo is recovering from complications that resulted in a bout with Hepatitis C. Proceeds from the collection will benefit the Alejandro Escovedo Medical & Living Expense Trust. http://www.alejandrofund.com/ A recent series of concerts also raised money for the fund.READ THE FULL ARTICLE
8/28/03
BENEFIT CELEBRATES A SECOND CHANCE
by Beth Wood
San Diego Union-Tribune
Known for his songs about lost love and wasted lives, Alejandro Escovedo had a dance with death. It cheered him up. The singer-guitarist collapsed onstage in April and was diagnosed with internal bleeding, ulcers, hepatitis C and advanced cirrhosis of the liver.
READ THE FULL ARTICLE
8/28/03
MUSICIANS RALLY FOR AILING, UNINSURED ESCOVEDO
by Sean Glennon
The Journal News
Nobody likes Alejandro Escovedo's music. It just isn't done. There are people, far more of them than there ought to be, who have never heard the Austin-based singer-songwriter's work. And then there are those who adore Escovedo's songwriting, who are awed by the artist's heartbreaking lyrics, fluid melodies, and arrangements that manage to be full and gorgeous without ever becoming flashy or baroque.
READ THE FULL ARTICLE
8/26/03
LOCALS PLAY TO PAY AT BENEFITS FOR AUSTIN PUNK-FOLK HERO ALEJANDRO ESCOVEDO
by Will K. Shilling
San Diego City Beat
In his first interview since being diagnosed, Alejandro recently spoke with CityBeat from his Canyon Lake home near Austin about mixed feelings and a blessed life.
READ THE FULL ARTICLE
6/25/03
BENEFITS AID AILING ESCOVEDO
Colin Devenish
Rolling Stone
Fastball, Gourds members play to help pay medical bills
A string of benefits are being planned to help singer-songwriter Alejandro Escovedo pay his medical bills. Escovedo collapsed after a show April 26th in Phoenix and has since been diagnosed with advanced cirrhosis of the liver, a complication of Hepatitis C.
READ THE FULL ARTICLE
6/26/03
AS ESCOVEDO RECOVERS, FRIENDS PITCH IN
Edited by Jonathan Cohen
Billboard
Alejandro Escovedo is on hiatus until next year as he recovers from complications from Hepatitis C. The revered singer/songwriter was hospitalized after collapsing in April, and is currently resting at his home in Canyon Lake, Texas. The normally hard-touring artist will not make any appearances until Austin's South By Southwest festival next March.
READ THE FULL ARTICLE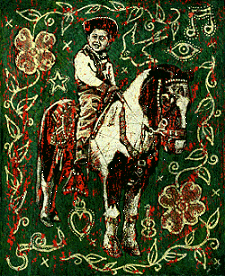 Por Vida: The Tribute Concert – was on November 4th, 2004 learn more>>
A New Review of the Por Vida Tribute album in News.
read more>>
Alejandro Fund C/O Texas Music Group 805 West Ave. Suite 2 Austin, TX 78701